MENU IDEAS FROM OUR TABLE: Creamy Curried Cauliflower Soup (Recipe Below) Roasted Turkey Cauliflower Mashed Potatoes "Garlicky" Green Beans (Recipe Below – sub asparagus if you prefer!) Golden Gravy (Easy Instructions Below)
Pumpkin Spice Cookies (Recipe Below)
GOLDEN GRAVY
Cook your Turkey as you usually do but stuff it with celery, onion, a head of garlic and rosemary (you can also use a fennel bulb). These vegetables will be pureed with the turkey drippings to make your gravy. Add soy sauce for the golden color and pepper to taste. Load up your cauliflower mashed potatoes with this delicious Paleo gravy, and enjoy with the guilt!!!
"GARLICKY" GREEN BEANS
Ingredients:
1 pound fresh green beans, trimmed and snapped in half 3 tablespoons butter 3 cloves garlic, minced 2 pinches lemon pepper salt to taste
Directions:
Place green beans into a large skillet and cover with water; bring to a boil. Reduce heat to medium-low and simmer until beans start to soften, about 5 minutes.
Drain water. Add butter to green beans; cook and stir until butter is melted, 2 to 3 minutes.
Cook and stir garlic with green beans until garlic is tender and fragrant, 3 to 4 minutes. Season with lemon pepper and salt.
CREAMY CURRIED CAULIFLOWER SOUP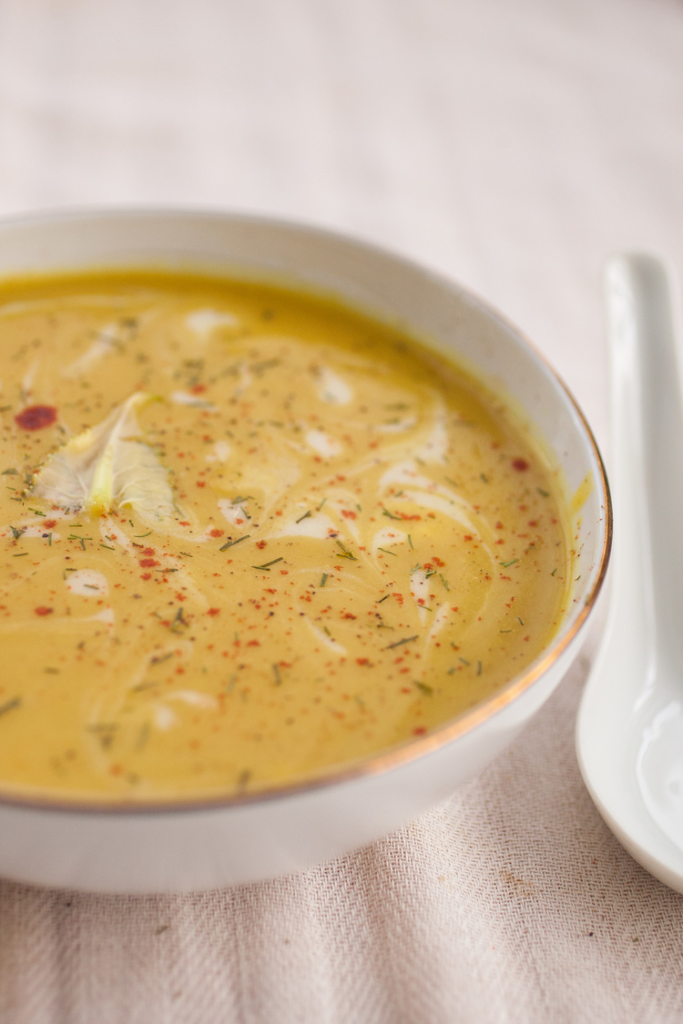 Ingredients:
1 Tbsp. olive oil
Dried onions
1 bay leaf
1 1/4 tsp. ground cumin
1 tsp. kosher salt
1 tsp. ground turmeric
1/2 tsp. ground coriander
1/8 tsp. ground cardamom
dash of ground black pepper
sprinkling of crushed red pepper flakes
4 garlic cloves, minced
4 1/2 cups vegetable broth (no sugar)
1 large head of cauliflower, roughly chopped to the same size
1 Tbsp. apple cider vinegar
fresh dill (for garnish – optional)
Directions:
In a large soup pot, heat the oil over medium-low. Add the spice ingredients, except for the garlic.
Saute, stirring occasionally until the onions become translucent, about 10 minutes. Then, add the garlic and saute another few minutes.
Add the vegetable broth and bring to a boil over high heat. Reduce to a simmer and allow to cook for about 15 minutes, until the cauliflower is tender.
Remove from heat and transfer carefully to a blender. Blend on high (allowing steam to vent) for a few minutes, until silky and smooth.
Freeze or refrigerate the soup. For each serving use a cup or two of the soup and add an Ideal Protein Chicken Soup packet (use only have of the water as directed on the packet). Heat on stove top or microwave.
Serve hot and topped with fresh dill and ground black pepper, if you like.
CRISPY PUMPKIN PIE COOKIES
Ingredients: 1 pkg. IP peanut butter soy puffs 1/8 tsp. baking powder 1 tsp. Splenda ¼ tsp. pumpkin pie spice 2 T. + 1 ½ tsp. *water Cooking spray
Directions:
Preheat oven to 350 degrees.
Add dry ingredients to a blender or food processor; blend to fine crumbs.
Transfer to a small bowl; add water and mix.
Evenly drop 6 spoonfuls of batter onto a parchment lined baking sheet.
Spread into thin circles with the back of a spoon sprayed with cooking spray; you may also pat down with your fingers.
Bake 10 minutes; take out of oven and flip. Bake another 5 minutes.
*Pumpkin pie extract or emulsion may be subbed for ½ tsp. of the water for a more intense pumpkin flavor. Take the water down to 1 T. + 1 tsp. if subbing. Omit pumpkin pie spice entirely.
TIP: Always try to spread the cookies out evenly, so that they bake evenly. Spread them out a little bit smaller than the size of your palm, a standard cookie size will do. Watch the cookies towards the end or they will burn up quickly.