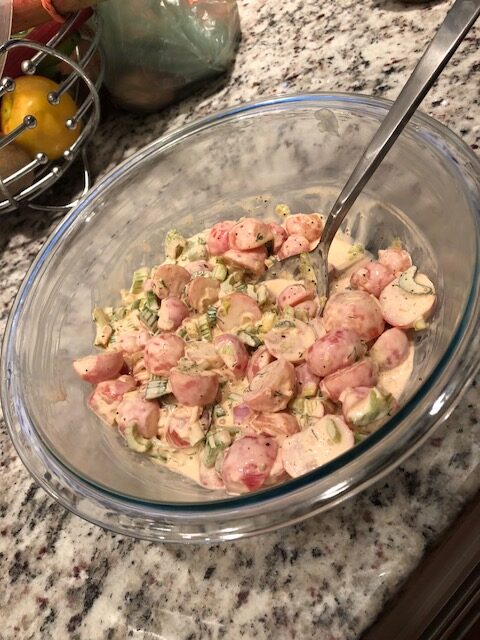 You'll Need
3 bunches red radishes, leaves trimmed
2 tablespoons olive oil
1 cup water
1/3 cup mayonnaise {see notes}
1/2 cup celery, diced small
1/4 cup shallots, minced
2 tablespoons fresh dill, chopped
1 tablespoon dijon mustard
1/4 teaspoon sea salt
1/2 teaspoon black pepper
1 teaspoon lemon juice
Directions
Wash the trimmed radishes and halve. In a large shallow pan over high heat combine the radishes, olive oil, water and a heavy pinch of sea salt. Bring to a boil uncovered. Then reduce the heat to low, cover and simmer for 5 minutes.
The radishes should be soft and tender, and most of the water should be absorbed. Remove the radishes from the heat and set aside on a towel to cool and pat dry.
In a small bowl mix together the mayonnaise, celery, shallots, dill, mustard, salt, pepper and lemon juice. Toss the radishes with the dressing and combine well.
Refrigerate until you're ready to serve.​
Recipe Notes
Serves 4. Making this salad ahead of time, refrigerating it and serving it cold like a traditional potato salad is ideal. But you can serve it at room temperature if you didn't plan ahead.